I only recently realized I wasn't giving my first favorite Filipino singer
the kind of tribute I been giving to her good friend, Regine Velasquez.
How could I forget that before there was Kuh, Lea or Regine, there was
this incredible woman who always impressed me so much not just with her
talent but with her charms and grace.
I remember when Pops Fernandez first came on the scene.
Some of the teens at the school were talking about this teenager
studying at the International School who was talented and sharp.
Her school was one of the places our school would compete against in sports.
We gone down there a few times and hoped to see her around. Never did.
When I finally got to meet her in person she was already doing good
on television.
What I thought was so cool was her being a teenager just like us.
We considered her one of our peers and some took her as their role model.
It felt like good times because allot of the new stars in the music industry
were in our generation like Sharon Cuneta and Kuh Ledesma.

I remember dragging my group of friends to Baguio City
to try and catch one of her shows at a university there.
She was being escorted at the time by this actor named Rowell Santiago.
And I remember seeing Sharon Cuneta there too on the second floor.
Missed the show but I somehow got by the fans and guards
and came up behind Pops to get her autograph after my pals dared me.
Actually did it twice just to see if I would be able to do it again.
It took my wanting to meet Pops in person to overcome a fear
I use to have in meeting people. OK, make that beautiful people.


Pops didn't buy my excuse for coming back to get a second autograph
that night. I said I lost the first one. She had that 'yeah, right' look.
hehe..I still got both of them in a scrapbook. But the impression
she left on me will always linger. And this tribute web page is a good
part of it. There are just some things in life you never ever forget.
And this kind and friendly music superstar is one of them. She's one
of the reasons I admire our Filipino women so much.

It was great being a Pops fan because it gave me and my friends the chance
to do things we wanted to do. And that was go to concerts and be able to bond
and relate with the artists. Even get the chance to act like real concert fans
just like they do over there in the United States.
And Pops was the closest thing to a US concert show.
She was the closest thing to having our own music superstar.
And we loved her for it. Till 'Songbird' came into the scene.
But that's another happy web page story.

( Please use your browser's return button to go back )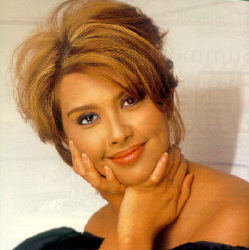 -Pops Fernandez Fans Web Site-