The Song list of
' M o m e n t s '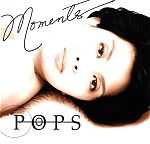 AFTER THE LOVE IS GONE
IT'S SAD TO BELONG
COME WHAT MAY
PAANO?
DON'T LET ME BE THE LAST TO KNOW
WILL YOU STILL LOVE ME TOMORROW?
JUST WHEN I NEEDED YOU MOST
FALLIN'
BAKIT NGAYON KA LANG?
HOW DO YOU KEEP THE MUSIC PLAYING?
DON'T CRY OUT LOUD
WHERE IS LOVE?
GOODBYE TO LOVE
QUOTES:
"I'm very happy with my album only because it has a very different concept,
everything that you read from the album is from me. I wanted it to be more
personal. I wrote everything there one by one. In fact, I had to go through
my old notebooks and include some of the verses or phrases that I like."
"It's called 'Moments' because it's about moments in my life.
I just want people to know that it's okay to fall because
the best part of falling is trying to get up and recover.
And the best part of making a mistake is learning from it."

( Play Trivia )
Trivia questions :
In Pops new album-'Moments'. What are the very last 3 words
Pops says in the very last song of that album? The song is
titled "Goodbye To Love". Those words are not a part of any
other version I heard of this song. A direct personal message?
Answer: 'Goodbye, my Love' instead of 'goodbye to love'
( 'Wow. Now that was heavy and dramatic. -M&M )


How many albums has Pops released? Not including the ones
where she sang just one song or was just a guest singer.
Don't include those various artists collections.
Answer: Actually not sure about this question.
But only a couple of albums went platinum.
But her last 2 releases in 1999 went gold.
( 'Moments' was Pops 10th music album release. -M&M )

What was or is considered to be Pops biggest hit song?
Or shall we word it this way- what song is she known for?
Answer: 'Don't Say Goodbye'. Co-written by her ex-husband who also sang background.
( 'Some fans wrote in to say "Point Of View" & "Little Star". -M&M )
What was Pops least known album?
Answer: 'Changes'. An album produced by Mark Fiest.
Who also produced a somewhat disappointing album for Regine.
He's also a second or 3rd cousin of Martin Nievera.
( "Geez, the irony here is almost deafening". -M&M )
One of our favorite games our band to play in between music sets
was 'verbal' trivia pursuit. Naturally the category of choice
was usually music. I use to entertain some thoughts about
making my own 'Philippines only' kind of questions.

Questions like:
-Who was Imelda Marcos favorite female singer?
-How many albums did Imelda make for her own private collection?
-What was considered Imelda's most popular songs?
-Was Imelda Marcos' gold record actually made of real gold?
Hey, it might have been popular with some former heads of the gov't. hehe..
More trivia from a fan:
Did you know that pops stood as matron of honor in the wedding of her friend
joy ortega in the same church where she wed? she reportedly refused to line
up and catch the bouquet during the reception.

Did you know that pops was spotted by the producer of a fashion show in Guam
last year, while she's aboard a plane on her way to the Phil?
Interestingly, she was invited not to sing but to model. this producer it
turned out did not know that she is "the Pops Fernandez", the Philippine's
concert queen. she ended up singing and modeling at the same time.
Pops is currently the managing partner of 'Geoff Simpson Salon'
located at Annapolis Street, Greenhills.

- Have a Happy Musical Day -
( press your back button to return )