" My Queen! What is your biddings..."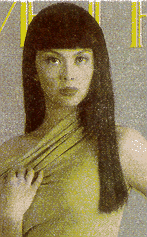 Pops on the cover of Metro Magazine.
'Cleo-POP-tra'?


Not as clear as I'd like it to be
but you can see her distinctive style clearly.
I really like the way she dresses in public.

__________________________

Bery good!!

Pops last two albums went to Gold status.

Pops concerts the last few years have been fast sold out!

She's been the number one female concert act
for more than a decade. So someone should tell
the new teen queen coming up it'll be a few more
years before I would consider her even close
to becoming the next concert queen. And certainly
after she made more than a few albums. Till then
she can enjoy being called 'close number two'. hehe..

____________________________

-A short story-

One of the most memorable moments & performance of Pops
was when she appeared on a noon time show when she was
still "making it". She did 'Telefone' by Sheena Easton.
This was probably where she really earned her nick name
'Awesome' because she had everything right. Her clothes,
her moves and that incredible hair. And best of all was
my best friend's comment who wasn't into her music at the
time- "WOW, who is that?"

When I said "That is Pops" He
gave a shocked "you're kidding!" When you get that
kind of reaction from a die hard rocker then there really
is nothing left to argue about. He did come along once
to watch her concert with me at the Folk Arts Theater.
All he kept saying was "doesn't she sing any Pat Benatar
songs?" Drove me nuts. But he was happy when she sang
'Pink Cadillac'. It turns out that was originally sung
by Bruce Springsteen-a rock artist. (I should have known.)

-P O P S F E R N A N D E Z F A N W E B P A G E-

__________________
__________________

It takes real talent to get me to appreciate a singer.
(Takes a real cute one to make me look harder. hehe..)
Just kidding naman...