" T o p o F T h e P o p s "
by: Ann Montemar-Oriondo
For: People Asia, March Issue
'With faith are all things possible.'


At 33, Pops Fernandez makes a strong case for redefining winning : that is,
first and foremost, a process of settling scores within oneself. And having
settled a lot of her own, it's a small wonder she is earning points in the
game of survival.

Pops learned to play the game early enough. When she was very young, her
father, the late action star Eddie Fernandez, was imprisoned and remained
so for the next 12 years.
"There was that big fear," Pops reminisces. "What if the were cruel? What
if they did go out of their way to laugh?" So Pops came up with plan. "I
was always preparing myself.

First of all I knew the story behind the incident of my dad and I knew that
he was not guilty. I knew my father-- no matter how people perceived him,
he was a very kind-hearted and gentle man. So, I would tell myself, 'Just
in case they would get the wrong notion, I would take the stand that he's
my father and I love him. We've got our own problems so you deal with yours
and I'll deal with mine." Dealing with her situation wasn't easy. "What I
did was -- how I tried to get over it -- I decided I was going to do well
in school. I was going to study ready well." By force of will, Pops became an
honor student in elementary and high school at the International School in Makati.
I wanted my mom and dad to be proud of me. I wanted to focus on something
that would make me stand out. That was my way of saying, ' I wanna be
productive.
'" Her mother, Dulce Lucban (who would later sheer Pops career),
proved an able teacher and example in strength and coping.
"My mom has always been very honest," Pop says. "With her,
'This is it, this is black and white.' Thank God she is level-headed,
strong woman. She would tell me, 'No matter what happens, your father is
nice and innocent and he's your father. Never be ashamed of him.' It was
explained very well." Dulce also raised her daughter on faith, which Pops
heavily relies on to this day. "I've always had a strong relationship with
God, "she reflects. "My mom goes to church. She would pray everyday.
Since I was the eldest I had to sit beside her and pray." Then she did well as a
student, "In the back of my mind," Pops recalls, "showbiz was always where
I wanted to be."
She did enter this controversy-laden field at the young age of 15.
The coping mechanisms she developed as a child and teenager were
put to good use in the ensuing years, especially during her much-talked
about marital storms and eventual separation from Martin Nievera. What
differentiated Pops' career from other artist' is that she has received a
huge amount of attention not only for her artistic achievements but for her
personal life as well, not only from fans but showbiz watchers in general.

To them, she's a virtual relative -- if you may call her that --for reasons
that baffle even Pops. "Maybe it's because they saw me grow up, saw me fall
in love," she muses. "They saw the whole love story evolve into something
more, saw our family, my kids grow up. It seemed we shared part of our
lives with everyone. And in a way, we gave them hope that there is such a
thing as falling in love in showbiz and making it work." With her
separation, Pops thinks that "Whatever it is I went through, a lot of
people felt, 'Not them! They're our only hope! How can what happen?' When
it didn't go the way we expected it, they felt the anger and the pain
because they felt we were their only hope."
Pops now sees history repeating itself, so to speak, with
her own broken home. It pains Pops to see her sons- Robin,13
and Ram, 9 -going through the same thing she did.

Showing her children strength is something, Pops says with a loud laugh,
that she "does well." She adds: "I grew up in an environment like that. I
think there's nothing wrong with sharing your feelings and being real. They
have to know that mom is real, mom does feel. And at the same time I want
them to be much stronger. Honesty is very important. This is the deal, this
is the whole concept. You don't really have to go into details. Kids are
really smart; you think they can't handle certain things but they can."

Which is not to say that strength comes spontaneously to Pops, who has
learned to work hard at it. "I think the reason why I'm working so hard now
is because there came a point in my life -- this was in one of my
trying-to-believe-in-myself and trying-to-find-myself moments a couple of
years back -- I really didn't want to do anything. I hated it, I hated my
self. I realized I didn't do much, I just stayed home, watched TV. Then
when I'd feel bad, I'd cry. Then I'd try to sleep, then watch TV, stay
home. I didn't want to do anything, I didn't want to go out. "Then one day
it dawned on me: What would happen if I died tomorrow? How would my kids
remember me? I figured, shucks, they'd say, 'Oh my mom was really nice; she
was very quiet, she just watched TV the whole time.' Well, they never
really saw me crying. It was just a discover. And I then realized that I
could give them more. I could show them how caring I am. I do, it's just
that I was too busy not liking myself that I was not showing the better
side of me to my kids, and to my family and my friends because I was never
there. How can I be there, when I was too busy locking myself in my room?

"But then I said,'Okay, I'm a singer but if I go, what are my greatest
achievements? They'll just say, I used to see her on TV!'
That's how I felt. Should I be happy with the songs
they'll remember me by, the clothes that I wore, and my
different hairstyles? I don't think that's enough, right?
So I said, 'That's not for me, either. I know myself more.'
I know that I've got more heart. And that's why, in everything I do.
I try to touch people's lives.

"Now I'm into charity. I'm a spokesperson for the children's hour. I want to
touch, I want to help," She says. And so, even at the height of the martial
controversy surrounding her, Pops still managed to keep her career in high
gear. "Do I have a choice?" She laughs. "Even if I wanted to disappear they
didn't want me to disappear!"

Now on the threshold of another chapter in life as a single parent and
artist who intends to branch out in other fields of entertainment, Pops can
look at her horizons and say with conviction that she has indeed
settled things with herself. I've already done all that without people
knowing about it," she elaborates. I've had many battles with myself
which I don't have to announce, anyway. I dealt with myself
for a long time. I tried to figure out what happened, what went
wrong. I'm still the same person as when I was a child. I stayed in my
room. That's really the best way to deal with certain situations in life.
More or less I knew where I wanted to go." surviving
has been a matter of thriving for Pops.

'Strength is actually not allowing yourself to fail," she reflects. 'I'm
weak and I have been weak- but it's okay as long as you don't dwell on the
weaknesses. As long as you know you can still recover, there is still hope."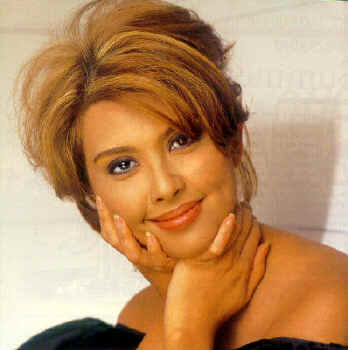 ________________________
Back to main
Articles Section

Back to main
Table Of Contents
________________________