Pops article found
inside People's Asia
Subject Matter: Pops, Carmina, Kris

The whole world know what they have in common - their civil
status, that is:
Pops Fernandez: Separated
Kris Aquino: Separated Carina Villaroel: Separated

There's a certain relief that comes with the decision to would be their
lifetime partners, for better or for worse; and at the same time, there's a
gnawing pain that might take a lifetime to heal. Talk about wounds that never heal!
But that seems to be the only way out, fraught with pain though it may be.
If you can't hack it, cut it - cleanly!

Take the case of Pops and estranged husband Martin Nievera,a private
affair that turned into a public soap opera avidly followed by the whole
world (by their fans not only here but in all corners of the globe where
there are Filipino communities). It's a classic case of the wife being the
truth (yes, the suspected "other woman"), she resolved to give Martin his
freedom - though not legally (the annulment case Pops has filed against
Martin, from whom she's asking P150,000 monthly as support, is still
pending in court).

"Actually," said Pops in an interview, "what many people don't know and
don't realize that there's so much pain involved; maybe people think that
things just happened only recently, that only one mistake was involved. No,
it didn't happen that way. It's not as if I woke up one morning, fed up
with the whole thing, and said, 'Okay, I'll give you your freedom; we'll
separate!' It has been a long, painful process."

The way Pops related "the long, painful process," you'd conclude that
Martin was a "habitual offender." (In fairness to Martin, he did publicly
apologize to Pops for the pain he had caused her, saying, "Pops is not only
my wife, she's also my best friend," at the same time humbly admitting his
faults and shortcomings.)
"He would commit a mistake (seeing somebody else - RL) and when he said he
was sorry, I would forgive him again, until it became a cycle. I would
take him back even if I knew that something was happening."
Now living apart, with Pops remaining at the conjugal home in Ayala
Alabang with their sons Ram and Robin (whom Martin is free to visit anytime
he wants to) and Martin living in his own "bachelor'" pad, Pops and Martin
will hopefully become even better friends. "Once lost," Pops said when she
broke her silence on the issue, "it's hard to restore your trust in a
person, especially if he's your husband."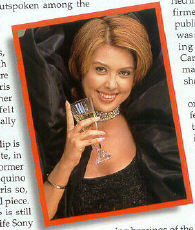 There have been "sightings" of Martin with that somebody else both here
and abroad, but Martin has opted to keep mum on the matter, proving true to
his statement in an interview that, "No man will ever admit that he's unfaithful!"
It was not unfaithfulness that drove a wedge between Kris and her home
companion Philip Salvador, almost twice older that Kris. She bore him a
son, four-year-old Joshua, in defiance of the Aquino name and honor and the
public expectations of the "Ninoy Aquino children and therefore the one
perceived to be the most politically inclined).

Just like in the case of Pops, it was along process, though not as
painful. "Everytime there was a family gathering," Kris said when she
announced her break-up with Philip, "I felt guilty that my other sisters
are legally married and I am not."

It's public knowledge that Philip is the only Aquino "in-law" (take note,
in quotation marks) not welcome (by former President Cory Aquino) to the
Aquino family gathering and it hurt Kris so, breaking her heart piece by
painful piece. As everybody also knows, Philip is still Davao, based in
New York, with whom Philip has three grown-up children, the eldest of whom
is only a year or two younger than Kris. Philip has filled for divorce
against Sony, saying he's not fit to be a good husband (to Sony) and just
like Pops and Martin's case, it's pending in court.

"Until he's free to marry me," said Kris who seems to have recovered faster
than Pops, "I don't think a reconciliation is possible seeing each other
often because Philip fetches Joshua to and from home to school.)
Although Pops and Kris have been romantically linked to other guys, they
are not, contrary to public impression, enjoying to the hilt their newly
found single blessedness. In short, they're not playing the field, thank you.
Nasty rumors continue to hound Carmina, though. Since she broke up with
Rustom Padilla two years ago, Carmina has been reported to have had
"flings" with the likes of Monsour del Rosario, Aga Mulach, Zoren Legaspi
and newcomer Piolo Pascual, with the rumors dying a quick and natural death
because they didn't have basis in fact.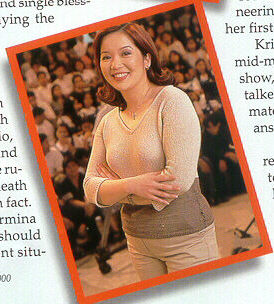 "Me playing around?" Carmina asked. "Hello! I don't know if I should be
happy or sad with my present situation, or angry. My every move is noticed
by everybody. When people just see me with another guy, they make up stories."
Whether or not she and Rustom outgrew each other after living together for
barely three years, getting married in civil rites so secretly that it was
confirmed only when they separated, the public can only surmise. Their
break-up was surrounded by ugly rumors concerning Rustom's sexual
preference, Carmina's alleged "affair" with another man, and whatever
fantastic reason showbiz observes could think of.

People close to the couple said that one morning, Carmina woke up and felt
that she had fallen put of love, and that was it. That easy? Not quite.
Falling out of love happens after some soul-searching, assessment and
reassessment of the situation, according to Carmina who has become Rustom's
friend again after their break-up, sometimes swapping light jokes with him
when they bump into each other in court during hearings of the annulment
case between them. (Like Pops, Carmina's lawyer is Katrina Legarda.) There
have never been any exchange of unsavory words between Carmina and Rustom;
they been nice and civil toward each other, especially when they're talking
to the press.

"From my experience," said Carmina, "I don't advise anybody to a hundred
times before even committing themselves."
Together, Pops, Kris and Carmina must be exchanging notes, learning from
each other, finding comfort and solace in having survived the same
experience.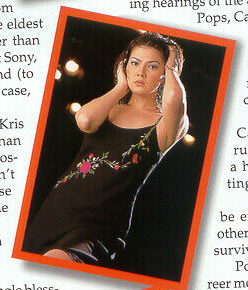 Pops has decided to make a drastic career move by doing a "sexy" role (as
the domineering rich wife of Richard Gomez) in Linlang, her first
post-Martin movie.

Kris continues to brighten up everybody's mid-morning with her ABS-CBN
self-titled talk show, one time inviting Philip as guest (they talked as
if they didn't know each other intimately, with Kris already knew by heart).
Carmina said she's focused on her career, refusing to seriously commit
herself to another man (the pending case, you know, the pending case!).
Surely, even if they have loved and lost, the three are not afraid to love
again - if the "right one" comes along.



" G "
___________________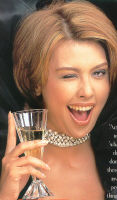 "Life is what you make it." -M&M
________________________
Back to main
Articles Section

Back to main
Table Of Contents
________________________