" A NEW POPS EMERGES "
The Philippine Star, October 18, 1999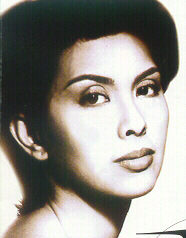 And there she is, Pops Fernandez in full bloom, in all her radiant glory,
belatedly emerging like a breath-takingly beautiful butterfly from her cocoon.
If her estranged husband Martin Nievera (now on a concert tour in the US after a show in Japan)
could see her now, so desirable, so seductive and so different from the "conservative"
and sweet Pops who blushed like a rose at the first touch of the sun!

Pops has emerged and she's in tip-top shape, in fighting form. In her new movie, Viva Films 'Linlang',
the "new" Pops essays a step into the "bold" wide world where angels like her feared to tread, now ready,
willing and able to show the whole world that she's got what it takes to be sexy, although she's
not about to compete flesh for flesh, gams for gams, bare buttocks for bare buttocks, "frontal"
for "frontal" with the established boldies like Priscilla Almeda, Ara Mina, Ina Raymundo, Patricia Javier
and Joyce Jimenez who's with Pops in Linlang (directed by Maryo J. delos Reyes and also starring Richard Gomez).

"I'm not going bold," Pops reiterated, "I want to make that very clear.
Neither am I going sexy; kaunting sexy, all right, pero hindi gaano."

Just teasing enough to make male moviegoers' blood boil a bit, you know.
But when it's a sweet girl like Pops who as much as shows a little bit of flesh,
it becomes already, well, "bold." Her role in Linlang calls for it.
She plays an accomplished career woman who comes from a rich family,
married to Richard whom she has transformed from a handsome bumpkin to a dashing,
cultured and fashionable gentleman, shaping him into the man of her dreams.
And then Richard meets Joyce Jimenez and Pops' world turns upside-down, topsy-turvy.

This is the same movie (which would have been directed by Richard himself)
touted as the "arena" of Pops and Joyce (who has been wrongly romantically linked
to Pops' estranged husband Martin), all because in one slapping scene,
with Joyce at the receiving end of Pops' firm hand, Pops was said to have resorted
to "realistic" acting. Ouch! Of course, both Pops and Joyce at once nipped in the bud
any attempt (by the movie press) to pit them against each other.

Trabaho lang po, walang personalan.

For sure, with these sexy Linlang photos of Pops, a new round of speculations will crop up
-- you know, did Pops include in her preparations for the role some "enhancement?" You know.
But never mind, with Pops looking so dazzling and so inviting, what you see is what you get.

She's doing it all, you know, "for art's sake."

Orginally presented in the Star Newspaper.
And you sound like a sicko, you know, for " journalistic sake."
-A fan's coment to the writer of this article.

______________________________
next article 6
Back to main
Articles Section

Back to main
Table Of Contents
________________________
Thanks to Alma for taking the time to type up several articles for fans to read.

@@@@@@@@@@@@@@@@@@@@@@@@@@@@@@@@@
@@@@@@@@@@@@@@@@@@@@@@@@@@@@@@@@@