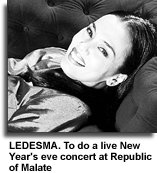 Kuh Ledesma update from Richard Roxas: -Jan '00
She's back in the resto business with Republic of Malate.
ROMA, her dance club in the three-in-one entertainment hub,
is packing them in every weekends. She performed there
for it's new millennium show.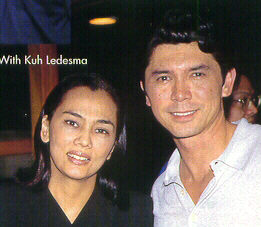 Kuh and Lou

Kuh got to rap with our favorite Fil-AM actor,
Lou Diamond, at a party held in his honor during
his short visit to the Philippines.
Did you hear that rumor about Kuh and Regine?

Yeah, right. And I'm Tom Cruise's boyfriend too.
Come on people! There has got to be something better
on TV than listening to that! The only thing more
shameless than the actual writer of that story is fans
taking the time to listen or read it. Put the trash
where it belongs. Where do you think we are? Hollywood?

Speaking of Hollywood... what's Ruffa been up to lately?
Hey, at least the stories about her are believable! (LoL!)

We got a Kuh article done finally! And it's a good thing too.
I was getting tired of fried chicken.

Click meh for article 1

Click meh for article 2


KUH LEDESMA On Her Newest Project: Republic Of Malate
On Phil Music site. Click here to read the article.
Old articles on Kuh on the net
Where to buy Kuh's 'PRECIOUS' CD in the US and on line.

- Old Article Area -
Kuh Ledesma articles has been submitted.
Just waiting for our trained chicken to finish the job.
She's a slow typist. Only does 35 pecks a minute.
And has a few eggs to lay too so please be patience.

But she was adviced to hurry it up.
Or else it's fried chicken lips for dinner!

Please come back again to read the new material.
Or join us for a chicken dinner.
Which ever comes first.
-KUH LEDESMA ARTICLES SECTION-