Vanity Magazine article
dated: 8 March 2000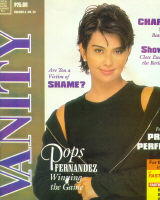 " Winning the Game "
by: Shing C. Atienza


Every woman has intimate or intimidating moments in her life. Whether or not life
flashes back the joys and pains she had gone through still they remain the best of
what she has and what she has given up.

What did this lovely lady named Pops Fernandez had then? As everyone knows,
she once had what people perceived to be the beautiful married life with Martin
Nievera. A sunny day with her two sons -Ram and Robin. And a commendable credit
that their union passed the traditional belief the most, if not all showbiz marriages
are destined to be on the rocks. Alas, they were about to celebrate their 14th year
of marriage when they parted ways. Their separation and annulment became the topic
Pops evaded to talk about. But she is kind enough to give a hint of how she and her
former husband get along now.

"We have started talking to each other again. But becoming just best
friends all over again is very hard to say. Possibly, just a good friends
for the sake of our children," Pops candidly says. And according to Pops
she has managed to make the adjustments to the situation, giving her a feeling of
confidence that she even admits she feels more comfortable being a single parent now.

"New Year means new life and hope," she says. And good projects are pouring
in. After Linlang, there'll be a follow-up movie. And she crosses her finger that it
will be a story different from the films she has made.

"And thank God, sexy movies are no longer the trend. But I don't have any sexy roles,"
she gracefully admits. "I thank God that we will be able now to make movies
with story lines that are not focused on sex. If it were the trend, then
everybody goes that way. 'Yon kasi ang uso, di ba?"

Really, the new millennium has a lot to offer to Pops. Movies, TV shows,
recordings, hostings and concerts. Despite these, her busy schedules enable her
to give quality time to Ram and Robin. Pops spends her free hours in the company
of her sons. They dine out, watch movies and talk. Her two boys have become close to her.

"Even when they are sleeping, they're making me proud of them. I love my sons,
who understand the nature of my job." A bright career and lovable sons are not
only Pop's jewels. She even has wonderful friends in showbiz, who are considered
the most eligible, except Rustom Padilla who has not yet been granted an annulment.
But there are eligible bachelors -Aga Muhlach, Troy Montero, Rustom Padilla
and Franco Laurel.

Her association with these good looking gentlemen has been interpreted in many ways
-even to the point of some assuming that Pops could be romantically
linked with one of them. Giving way to the question what if one of them courts her?

"You know, we really enjoy one another's company. And we are close. Ganu'n.
To find a male of female friend who can be trusted in showbiz is very hard.
'Yong hindi ka matsitsismis. Whatever you do with or say to the group will be
respected as private. No story will come out. And the most important thing is
we have respect for one another. So, going beyond this...parang nakakahiya,"
Pops genuinely admits.

Once Pops had a wonderful and fascinating love life. Today she admits she likes it
that nobody owns her heart and she says she is not worried and will not be
desperate to find someone yet.

"If there's someone out there for me, fine. Kung meron, kung wala, wala."
And Pops has new interest. Producing and directing a show is what she wants
to venture into someday. All the plans are all in her mind. And she says she
will do these one at a time.

"The type of show I have in mind is not to heavy drama. I'm serious type of
person, but I won't go into heavy drama. Nata-trauma ako. I prefer a light story.
Something about love, something that gives inspiration and hope. And after watching
the show you feel light," Pops sums up. Also she is happy that her latest album
entitled Moments has become a gold record.

And Pops has a single follow up. By way of closing the interview we asked
if she had regrets in life. She evaded the issue.
"You mean 'yong hindi ko malilimutan?" Pops wants to be sure. "First when
my Dad was not with us. Then when I joined showbiz. Next is when I had my
children. And I guess my...separation," Pops counts.

Separation is the last but not the least. Pops stresses that separation is
not something to look forward to in any marital relationship. But in her case,
she and Martin had no choice but to be on their own.

"And I guess it is not solely a question of what after the separation? It
is also of what after depression?"
Pops is pretty sure that she has passed the acid test. And she now bounces
back with confidence, energy, hope and a very positive outlook
as a single showbiz lady and a mother.

"And you know what is beautiful about life? It gives us the chance to know
that in order to win, one must experience loss. Because you'll never know what
it's like to be a winner without losing. And to win you, have something to sacrifice."

Does she need to tell us what she has sacrificed to enable to taste winning?



______________________________
Back to main
Articles Section

Back to main
Table Of Contents