Pops speaks for Children's Hour




SINGER-ACTRESS Pops Fernandez has one dream role which she has been longing
to play but only got around to realize it only now. and ironically, it has nothing to do with movies

Fernandez signed up as the celebrity spokesperson of the Children's Hour,
the global fundraising campaign for the disadvantaged children, which is fast catching fire here.

"I really wanna be a part of it. It's something that I wanna share with
the children. We have to really start being aware how we can help out children," she said.

The singer, mother of two young boys, admitted that accepting that role
was a sort of a realization of her longtime dream to help poor children get education

She said two years ago she thought of setting up a foundation that will
put needy children through school but this never got into the drawing board.
"So when I heard about it (Children's Hour), I said 'perfect.' I've always
wanted to do something like this," she said in an interview.
Fernandez, who had her hair dyed brown, said she didn't mind if her new
job would affect her commitments in show business.
"If it's to help people and the children and it's my way of giving
whatever I can give to people who need it, why not?" she said.
"What's a couple of hours of my time? It's not much if you're reaching out
to people who need it. I think it would be more fulfilling that way."
Fernandez said her job consists basically of raising the awareness of
people about the Children's Hour in the mass media.
"It's basically to make people aware of what Children's Hour is all about.
So that they know that there's such a thing as Children's Hour which is
helping a lot and that the basic needs of the children is what they're after," she said

She reckoned that a lot of people have no idea what the Children's Hour is
all about and how they can help.
More that her colleagues in showbiz, Fernandez said she wanted to reach
out to the individuals and companies.
"It's just being aware that they can help and if they wanna help, how to
go about them," she said.
Fernandez inked the deal to become the Children's Hour spokesperson with
Jaime Augusto Zobel de Ayala II last Monday at the Center for Excellence in
Public elementary Education in Tondo, Manila.
Ayala chairs the Children's Hour steering Committee in the country which
manages the campaign.
The Center, which provides free, quality education to more than a hundred
underprivileged but bright children, has been chosen by the committee as
one of the beneficiaries of the Children's Hour.
Apart from Fernandez, other celebrities were tapped to promote the
project. Young actress Jolina Magdangal has been chosen as its youth endorser.
Singer-turned-councilor Dingdong Avanzado, PBA player Alvin Patrimonio and
singer Imelda Papin have also agreed to endorse the project.
Papin has also pledged P1 per album/CD sold for the project.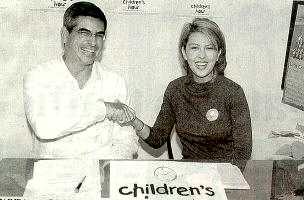 Article typed by: Josephine at Checkmark Internet Cafe- Angeles City

______________________________
Back to main
Articles Section

Back to main
Table Of Contents
________________________