'Good Housekeeping' Magazine Article
-December 1999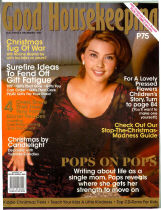 God blessed me with two wonderful gifts... my children. They know that they
give me joy and fulfillment. When they were born, as I held them for the
first time, I shed tears because I can never forget that wonderful moment,
that wonderful feeling.
But what they do not know is that they are my heroes... They saved me from
my sadness and the emptiness...

They make me strong, they are the ones that keep me going... I live my life
right now because of them...

They give me life, they are my life...

from Moments, the album

A Mother's Questions

Everybody congratulated me on my tenth album Moments, released under Viva
Records, because of its "nine packaging." But more than the packaging, I am
proud of the album because it contains my thoughts, my emotions, and what I
have inside. And the opportunity to bring out my thoughts in a scrapbook
made me realize a lot of things - it made me realize the importance of all
the people around me, especially my kids.

When I thought of including my Robin and my Ram in some pages of the
scrapbook, I pondered - how important are my kids to me? Aside from making
me into a complete person, a complete woman, making my life turn full
circle, what have they done for me?

As mothers, we have always thought about what we can give our kids. But
have we thought about what our kids have given us? For the first time, I
gave it deep thought and the answers came streaming through me, like they
were there all along.


They are my heroes...
They saved me from my sadness and the emptiness...
They make me strong, they are the ones that keep me going...
I live my life right now because of them...
They give me life, they are my life...

A Woman Raising Men

Yes, they are my heroes, especially now that I am alone in taking care of
them. Now I realize how difficult it is for single mothers to raise their
kids. But to all the single mothers, this is a reminder: it is not just
difficult to raise your kids all alone, it is also a blessing. It is a
blessing because you are privileged to give life and future to your
children. You are privileged to love and be loved by the most wonderful
people in the world-the people you carried in your womb for nine months.
They are your special gifts from God, and Robin and Ram are exactly these.

At first, when they were born, I was faced with fear. These were two boys
and I only knew how to be a woman - how could I raise them well? These boys
enjoyed roughing it up in the things they loved most - sports, such as
wrestling and basketball - how could I compete? And when I was faced with
the thought that I may have to raise them alone, I trembled with fear. At
times, I cried. There are no books on how to be a perfect mother; our kids
don't come with an instruction manual like when we buy a television set.
There are just no rules.

But the fear made it more wonderful. When I did something right, I felt
successful; but when I did something wrong, it drove me to do better. The
simple fact that it had no rules made it a wonderful learning experience
for me. And there was just one guideline - feel it. Fell if it would make
you happy and contented, and know that your kids would be happy and
contented with your decisions. Feel if it would make God happy; then you'd
know that what you are doing is right.


Little Blessings

Yes, Robin and Ram do save me from sadness and emptiness as a single
mother. They complete me. They keep me going. They inspire me to do the
best that I can be because I do not want to fail them. I do everything for
them, that is why I strive to do my best. I want them to feel proud of me
as their mother because I am proud of them as my kids. I want them to tell
other kids that I am their mother, and that I have raised them to the best
of my ability. And I am proud to be just that.

Being a single mother, I have grown closer to my kids, I talk to them, try
to learn what their thoughts are. I want to know their dreams, their
aspirations. That is why I take time out to talk to them, give them quality
time, bring them to places that I enjoy, sometimes quarrel with them
because that is how I get to know them better.

Sometimes, we cry together at their frustrations. When they feel sad, they
tell me and I feel sad for them. At times, I want to share with them how
sad I am, but I want to be strong for them. Because I do not want them to
crumble when I do. Because when I crumble, I derive my strength from them.
Yes, they are my strength.

Sometimes, we laugh together during the fun times. I know I will never
learn how to play basketball, but, hey, I get to know who the wrestlers are
and who the best basketball players are in and out of the country. I learn
from them. I learn about them.


Growing Up Together

We share a lot of things together. We share the same passions. For food, we
go out together and enjoy the decent restaurants. I enjoy the beach and
they extremely enjoy the view. Robin loves to jet ski, but my Ram still
feels afraid of the ocean because of the thought of living things swimming
in them.

Robin just turned 13. My Ram is now nine years old and enjoying being a
child who'll turn into a teenager soon. I have renewed fears because I know
they are growing to be their own personalities. They will never be shadows
of who I am, though I spend a lot of time with them, because I want them to
be their own person.

With all these thoughts, how will I rate myself as a single mother? I think
I am good, and I think I am getting better. When they grow old, with God on
my side, I hope and I pray that they will say that I was the best mother in
the whole world for them. I will try to be. For always.


A Prayer For My Two Heroes

Lord, thank you for giving me Robin and Ram. They are your special gifts to
me. Thank you for giving them to me as my inspiration and my strength. I
know that I am and will be alone in taking care of them. But with You
around, I know I will never fail. I hope they will be proud of me as their
mother, as I am proud of them as my kids. They are my heroes, they are my
life. And I love them with all my life. Thank you for blessing me with
these two best gifts in my life.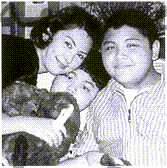 Article typed and mag scanned by Pops Fan- 'Alma'
______________________________
Back to main
Articles Section

Back to main
Table Of Contents
________________________
Full size picture of that magazine cover in Pops Picture Bin.