Here are some of Pops hobbies, interests and information: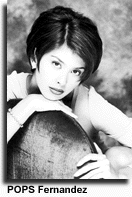 Interest 1 -Pops once said she likes James Bond movies & gadgets.
It could be why she is into high tech computer stuff.
Her official web page is nicely done. She isn't the web
maker but she definitely must be the creative force for it.


Interest 2 -One of Pops favorite movies was

"STAR WARS".
Now you know she's cool. (Lucky kids to have a mom like that.)
Interest 3 -Pops likes the music of the OSMONDS! Too cool!
You're looking at one. An Osmond Fan I mean. They were super hot before
just like the Jackson 5. Remember Donny and Marie? They're back on TV again.
* go to the favorite web sites section to reach the links for the Osmonds! -MusicMan

" Uh, Pops- That is not how you're suppose
to hold flowers! Love the pose though-"


hehe... :)

Did you know Pops has her PC right in her bedroom?
Pops usually tries to be the one who answers back to the fans
who sign in her guestbook at her official web site.
It's a small country after all:
my old former right hand man
use to ballroom dance with Pops Mom !

Where you can get updates about Pops Fernandez
and her favorite back-up concert partner- Regine Velasquez:
http://members.tripod.com/Zeaboe/images/bulletin.htm
( Just kidding about the back-up thingy Regine. hehe...)
More interesting information and some Pops trivia
can be found in the 'Moments' list section

Web page made by "MusicMan" with good help from 'BONG L.'

Contents Photo Album Guestbook View Guestbook Favorites
Some info wasn't updated to preserve the original touch of the web site.